Almost everyone is familiar with the soothing benefits of a good massage. Sometimes though it can be difficult to find a good professional, one you can trust, in a proper and relaxing environment. Also you may not be sure if massage will be appropriate or beneficial for your condition.

We offer a solution to this problem. We are a Massachusetts licensed location for massage by the Board of Health in the Town of Arlington located right near Boston. Our facility is a personal and relaxing setting where you can have your privacy, without compromising safety and comfort.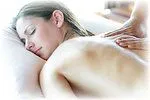 The clinic director is a Chiropractic Physician. He is available to answer your questions about the therapeutic concerns of a particular condition and to what extent massage would be beneficial.

We only staff licensed professional massage therapists. They have been carefully screened and interviewed by our clinical director, and selected for their exceptional skills.

Several styles are available from simple stress relief with Swedish Massage, to Shiatsu, Deep Tissue, Sports Massage, Myofascial Release, Acupressure, etc.

Massages are beneficial for reducing stress, muscular tension, myofascial syndromes, uncomplicated cases of neck and lower back stiffness, muscle soreness after exercise, some types of headaches, and many other conditions. Even if you are not in pain, an occasional massage is a great way to improve circulation and vitality to the whole body, relieve stress and maintain your health.

Massage helps release toxins stored in tight muscles and connective tissue, and increases circulation and flexibilty. By Increasing the movement and reducing the overall recovery time by helping the body in the healing process. In addition, consistent massage has been known to increase balance. 

Massage has proven to assist in the healing of a large number of conditions including back pain, surgery recovery, eating and sleep disorders as well as high blood pressure and diabetes among others.

Testimonials

We have enjoyed the benefits of regular contact - so to speak - with Anya for many years. Her healing hands and warm personality make her a sheer pleasure to work with. We are both athletes, and attribute much of our continued health to the therapeutic value of massages, especially those by Anya. Take it from guys that have done some massage shopping!

The Damon brothers, Kyle and Matt

I spend a lot of time at the computer. Anna's massage is the best therapy I know for getting rid of all muscle tension and aches that come with the job. But the most amazing thing was how much better Anna made my ankle feel when I was recovering from the break. It was nothing short of a miracle.

Brad Askins, Vice President of Technologies, Zindigo, Inc.